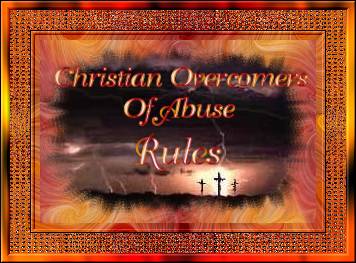 Welcome to the Christian Overcomers of Abuse Rule Site.

In this Group, members are overcoming different types of abuse;
such as from alcohol, drugs, child or domestic abuse.
Members are formed by a diversity of Christianity.

(Christianity: n. The Christian Religion,
founded on the teachings of Jesus.)
(Diversity: v. To give variety to; vary)

Here are a few Rules we have for our Members.

Thou shall respect all other members at all time.

Thou shall not post anything offensive.

Thou shall not force thy beliefs on anyone.

Thou shall not offer any advice,
unless it is asked for by a member of thy group.
If thy has a problem with a member,

Thou shall handle it one on one with that person;
not within thy group.
then thou shall email the founders of this group,
and they shall handle it with their own discretion.
Thou shall love thy members as thyself.

We shall handle all mannerism in a Christian way.

We're not here to condemn nor to judge;
but to bless, pray, comfort and console.
thou shall receive one warning by one of thee founders.
thyself inappropriately,
Thou shall be banned from thy group.
Thou shall be expected to post at least once every 2 weeks. (opt)

And Thou shall have a sense of humor. (opt)


Designs Copyright © 2002 "Hellogirl"