Prayers for Healing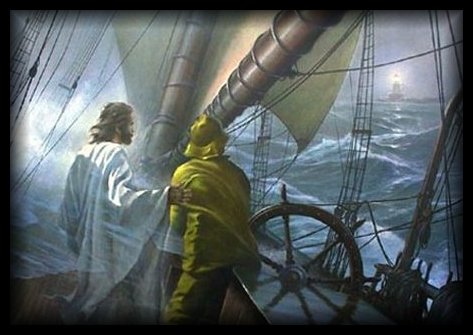 Jesus, You came because of the sick and the sinful. Therefore, I turn to You and want to as You to heal my soul and body. You know, Jesus, that sin tears and rips up the whole human being, that it destroys relations between people and with You. But there is no sin and no illness that You cannot drive away with Your almighty word. There is no wound you cannot heal...
Mary, you called me to pray for healing. Here, I want to do it now. So I ask you to accompany my prayer with your faith! Pray with me now that I may be worth of obtaining by prayer the graces for me personally and for others who are sick and infirm!
1. Come, O Lord!
He got into the boat and his disciples followed him. Without warning a violent storm came up on the lake, and the boat began to be swamped by the waves. Jesus was sleeping soundly, so the made their way toward him and woke him: >>What sort of man is this<<, they said, >>that even the winds and the sea obey him?<<
Jesus, You entered into the storms of the world. You also get the boat of every life. You are present, for Your name is Emmanuel, God with us, God for us! So I am asking you now: Come into my life! The boat of my life also begins to be swamped, consciousness and subconsciousness. Enter, Jesus, into the depths of my soul! I am lost! Stand up and tell my unrest to calm down, tell the death waves which surround me to stop threatening! Say the word to appease my heart that it may be able to hear Your divine, creative word!
(Remain in Silence)
Come, Jesus, into the boat of my family and of the whole world as well! Let our cries wake you up! Stretch out Your hand that calm may follow! Come, O Lord Jesus, come! Come where I am most wounded...
Come, Jesus, also into those boats of life which stands anchored to bad habits, to drugs, to alcohol, to bodily pleasures, and do not move forwards! Jesus, calm the storms! Let everybody hear your Voice which brings peace!
2. Decision
Jesus, You are in my boat of life. You are my God, I adore You, I glorify You, for You alone are the Holy One, You alone are the Lord. I believe in You and I put everything at Your disposal with trust. I decide for Your love and Your mercy. With You and Your Mother I say: Let Your will be done to me in health and in sickness, in success and in failure, in joys and sorrows, in life and in death, in the present and in eternity.
Jesus, I have often been indecisive for the good, I have often done my will and so go slashed all over. Cure me of my unbelief and my resistances which I offered when I failed to understand the Father's will!
Mary, obtain by prayer the grace for me that my decision may be a final one! Help me never to revoke it but to remain faithful!
(Silence)
3. Renunciation
Jesus, I renounce every sin, I renounce Satan, and all his seduction, his lies and promises. I renounce every idol and idolatry. I renounce my unforgiveness and hatred, my selfish and haughty life. I give up all the wishes which caused me to forget the Father's will. I give up every spiritual illness and neglect that You, Jesus, may enter into my soul.
Mary, Mother, help me crush Satan's head in my life!
4. Prayer for Love
>> You have heard the commandment. 'You shall love your countryman but hate your enemy.' My command to you : love your enemies, pray for your persecutors. This will prove that you are sons of your heavenly Father... <<(Mt 5, 43-44)
Jesus, You called to love ... I admit to You that my love is weak. Cure me of the wounds of non-love and all sins that prevent me from loving You above all, O my God! Cure my heart of the painful heritage I brought to this world because of the sins of the world and of my parents! Cure my soul of all burdens which have accumulated in me through my childhood and youth.
Let the fire of love, kindled by the grace of healing, destroy every darkness and completely melt the ice of evil in me! Enable me to love completely that I may love all men with my whole heart, even those who have insulted me. So often, Jesus, have I felt the inability of my love to forgive insults. Forgive my envy and jealousy that I used to burden myself and others with!
Heal my faith in You, too! Let the grace of trust remove every mistrust and every source of fear! Cure me of my godlessness in my thoughts, in my words, in my deeds!
Jesus, heal love in my family, too, so that it may be as it was in Yours! Heal love between spouses, between children and parents, between spouses and between children and parents, between the sick and the healthy...
(Silence! Pray in silence for the person whom, at the hour of prayers you do not love or whom you have not forgiven!)
5. Prayer for Healing of Soul
Jesus! Now I thank you for my soul, too!
All the consequences of sin reflect themselves in my soul, too. That is why I am often nervous and aggressive. I am often impatient and revengeful. Bad habits have settled in my soul, wounds and scars have remained which makes my love of others more difficult. Certain experiences have settled to the bottom, often making me distrustful.
Jesus, cleanse my subconsciousness! Enter with Your light into my subconsciousness that the darkness may never overwhelm it. With the power of Your grace touch those layers of my soul, too, in which the addictions to material things have settle which breed fear! Cleanse me that my spirit may be more open to You!
Heal me of mistrust in You and in Your word! Jesus, I beg You, heal me of all wounds and frustrations caused failures and unfulfilled wishes. Cure me of every inner darkness and heal the wounds in the depths of my subconsciousness! Let my subconciousness calm down in You, Jesus!
Now I pray to You also for all who are mentally ill and encumbered. Take off their burdens and clean the wounds which develop mental burdens. Cure every split personality, depression and fears, every neurosis and psychopathic state!
Cure also all those who have become mentally ill due to a failure in the family, at school, or at work. Remove from them the thoughts of suicide and fee them from every forced thought!
Jesus, be the Master of our souls! Cure all who have busied themselves with suspicious practices! Deliver them from every consequence of witchcraft and sorcery! Rest every soul and restore peace to it!
6. Prayer for Physical Healing
>>As evening drew on, they brought him many who were possessed. He expelled the spirits by a single command and cured all who were afflicted, thereby fulfilling what had been said through Isaiah the prophet: >>It was our infirmities he bore, our sufferings he endured. << (Mt 8, 16-17)
Jesus, cure my body. Here I am before You with my physical pains and the dangers threatening my body. Cure me of the diseases which are affecting my body now.
(Mention your own disease!)
Protect me from every disease! If it is Your will for me to carry the cross of illness, then I accept the cross and ask You for the grace to carry it with love. Jesus, now I pray to You for the healing of the members of my family and my relatives!
(Mention their names here!)
Jesus, I pray to You, if it is the Father's will for them to suffer, give them the strength to bear their crosses with love.
Cure all the sick in the world. Protect the world from epidemics and incurable diseases. Jesus, in one word, cure all our illnesses, for You came to take them upon Yourself and to save us!
Heavenly Father, that You for having created me, for having redeemed me through Your Son! Thank You for healing my body, my soul and my love through him now. Let the blessing of peace and reconciliation, of love and trust pour out on me, on my family, on the whole Church and on the whole world. Let Mary, our Mother, obtain by praying together with us from Your fatherly goodness all that we need for soul and body.
May it be so! Amen.
This prayer was taken from the book "Pray with the Heart" by: Fr. Slavko Barbaric, O.F.M.
It's the "Medjugorje Manual of Prayer"

Copyright by Danny Hahlbohm. All rights reserved by the artist

Granted permission to use the graphic image by Danny Hahlbohm.