Welcome to Hellogirl's Stationary Designs

For Outlook Express 5.5 +
A Tutorial for Installing the Stationary with Winzip
Disclaimer & Copyrights
Some of these images I've used were created by another Artist and photographer. Some were used with permission, others I've found through the internet as free graphics. There are also the ones I have licenses to, or have scanned and designed myself.
If something belongs to the original owner and have copyrights to the original image, please contact me, so we can discuss the material. I do not wish to have the owner to be upset with me and wish to be fair to the owner with respect for their talents.

As the copyright laws of Article 107. None of these images are to be used for commercial or to used in your own website without permission from either me or the original artist. Nor will it be tolerable by law to be sold for profit without consent.
The Stationary Designs are copyrighted by Hellogirl ©2001-2002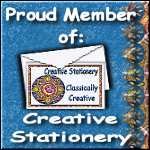 Email: Hellogirl@charter.net