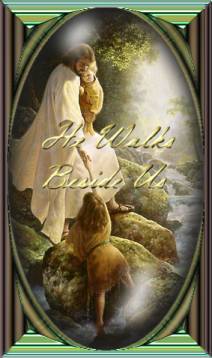 Step by step He walks beside us,
from the cradle to the grave.

He shares our joys, and all our sorrows, too.

He knows well our every weakness,
understands our every mood.

And He sees the cause for everything we do.
Let us never be discouraged,
when we look back on our past.

And we see mistakes we've made along the way.
God knows no one can be perfect,
and He loves us all the more,
For He knows the pain
our wrongs have brought our way.
When down and out, and friends we thought
were true don't understand,

And they turn away and leave us in despair....

Be assured the God is with us,
He won't leave us like the rest,

We can turn to Him, and know He's always there.
Step by step He walks beside us,
whether right or wrong we turn...

What a love! Our human hearts can't comprehend!

Blessed peace and joy is waiting for us,
just a prayer away...

He won't leave us, He'll be with us to the end!

~ Rosie E. Stogsdill~
* * * *
There is a destiny that makes us brothers,
None goes his way alone;
All that we send into the lives of others
Comes back into our own.
-Unknown-
* * * *
God's goodness hath been great to thee;
Let neither day nor night unhallowed pass,
But remember what the Lord hath done.

William Shakespeare
* * * *
Before we go to bed at night, let us kneel in the presence of God,
ask for His Fatherly love, and for His forgiveness for all we've done or failed to do
in His light and for His better Glory.
Meditate on our failures and ask The Holy Spirit to enter into our souls,
our consciousness and sub-consciousness,
so we may be aware of all our actions and failures.
Your Friend in Christ,
Hellogirl


Designs are copyrighted to Hellogirl