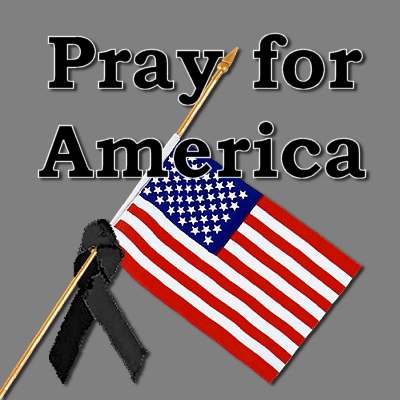 National Prayer

Lord, we come to You on bended knee,
heads bowed and our hearts filled to overflowing
with so much grief for the many people who have
been injured and killed in our National crisis.
We ask you Lord, to give courage
and strength to those who so bravely
go to their aid. And though their hearts will
be heavy and filled with sorrow we ask Lord
that You give them the endurance needed
to help them through this difficult task.
Please give us the strength Lord,
to get through each difficult and devastating
day that faces each of us and our country.
Protect and guide our Military that
are now being called to duty.
We ask Lord, that You guide the leaders
of our great country in their hour of decision.
The burden that has been placed on their
shoulders during this crisis is overwhelming.
We ask that with Your infinite wisdom You
guide them gently to the right decisions.
And lastly Lord, we ask that You
allow us all to come together as a Nation,
to stand tall and united, so that we might
help each other in our hour of need.
Amen


Dear Loving Father of all Creation,
Please cleanse every heart from all hatred throughout this world. Please bring love and peace and Your divine mercy upon us all. You sent Your Son, Jesus Christ, down here to be the prime example of how we all should love and to forgive those who has injured us. May You bless every heart with Your Love and inspire us to spread peace across this world, You've created for all of us. Please unite us all to become as one for Your better Glory! We sincerely ask this through Christ our Lord. Amen!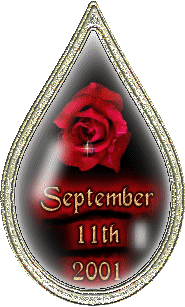 Lord Make me an Instrument of Your Peace
Where there is hatred,
Let me sow love;
Where there is injury, pardon;
Where there is doubt, faith;
Where there is despair, hope;
Where there is darkness, light;
And where there is sadness, joy.
- St. Francis of Assisi

Peace I leave with you, My peace I give to you; not as the world gives do
I give to you. Let not your heart be troubled, neither let it be afraid.
(John 14:27)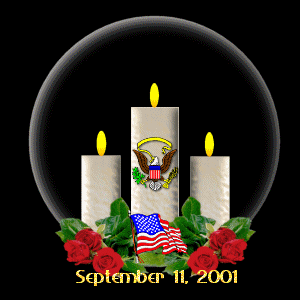 The nation reeled in horror and seethed in anger September 11, 2001 as knife-wielding terrorists hijacked four passenger jets and steered three of them into the Twin Towers of New York's World Trade Center and the Pentagon in Washington.
Thousands were feared dead in New York, and up to 800 were killed in the nation's capital.
In a day of infamy being compared to the Dec. 7, 1941, attack on Pearl Harbor, the Twin Towers crashed to the ground about an hour after passenger airliners smashed into each of the 110-story buildings at 8:45 a.m. and 9:03 a.m. EDT Tuesday.
Forty minutes after the second New York crash, another airliner smashed into the side of the Pentagon. The nerve center of the American military continued to burn well into the night.
A fourth hijacked aircraft crashed seven minutes later, at 9:50 a.m. in western Pennsylvania. A Virginia congressman said that plane was intended to crash into the presidential retreat at Camp David, Md.
President Bush, in a nationally broadcast address from the Oval Office at 8:30 p.m. EDT, said "thousands of lives were suddenly ended" through "evil, despicable acts of terror" and vowed to "find those responsible and bring them to justice."
The president said the United States would retaliate against "those behind these evil acts," and any country that harbors them. "Today, our nation saw evil," Bush said.
U.S. officials began piecing together a case linking terror mastermind Usama bin Laden to the attack almost immediately, aided by an intercept of communications between his supporters and harrowing cell phone calls from victims aboard the jetliners before they crashed. Authorities were focusing some of their efforts on possible bin Laden supporters in Florida based on the identification of a suspected hijacker on one of the manifests of the four jets that crashed, law enforcement sources said.
The sources said the FBI was preparing to search locations in Broward County in south Florida and Daytona Beach in central Florida. U.S. intelligence also intercepted communications between bin Laden supporters discussing the attacks on the World Trade Center in New York and the Pentagon, according to Utah Sen. Orrin Hatch.
"They have an intercept of some information that included people associated with bin Laden who acknowledged a couple of targets were hit," Hatch said in an interview with The Associated Press. He declined to be more specific.
Thousands of rescue workers in New York and Washington were searching for survivors among the rubble left by Tuesday's terror attacks.
Officials refused to give figures but said as many as several thousand could be dead in the New York City attacks, after both towers of the World Trade Center collapsed. Solid casualty figures might not come for weeks, officials warned.
Tuesday night, an unconfirmed report of an explosives-filled van heading toward Manhattan added to the chaos.
The four airliners that were hijacked had 266 people aboard alone and there were no known survivors. The Arlington County, Va., fire chief said deaths at the Pentagon ranged between 100 and 800.
A New York City Fire Department union official said he feared 300 firefighters who first reached the scene had died in rescue efforts at the trade center — where 50,000 people worked — and dozens of police officers were missing.
"The number of casualties will be more than most of us can bear," a visibly distraught Mayor Rudolph Giuliani warned Tuesday evening.
Police sources said some people trapped in the Twin Towers managed to call authorities or family members and that some trapped police officers made radio contact. In one of the calls, which took place in the afternoon, a businessman phoned his family to say he was trapped with policemen, whom he named, the source said.
Meanwhile, U.S. law enforcement and intelligence agencies were said to be focusing their efforts almost exclusively on Usama bin Laden as the culprit behind the attacks. Bin Laden, the fugitive Saudi billionaire who has lived in Afghanistan the last several years, had recently warned of massive attacks against the United States.
Unconfirmed reports coming from Boston said police there had identified several men believed to be supporters of bin Laden. Among them were trained pilots and several man who had traveled to Boston from Maine in the hours before the attacks.
Officials believe only those with some detailed pilot training could have succeeded in their suicide mission of flying the planes into the trade center and the Pentagon, as they did the previous morning.
According to reports, at least one Middle Eastern student at Embry-Riddle University in Daytona Beach, Fla., a flight school, was missing as of last night. Authorities were looking into reports he may have been on one of the hijacked planes.
In New York, more than 1,000 people were undergoing treatment at hospitals, with 200 in critical condition. Another 1,600 "walking wounded" were treated at Liberty State Park in New Jersey. Police Commissioner Bernard Kerik said rescuers had already determined there were some people alive in two buildings downtown.
Late in the afternoon, Building 7, an evacuated, 47-story part of the World Trade Center complex, collapsed after burning out of control for eight hours.
Authorities went on alert from coast to coast, evacuating high-profile buildings and tightening security at strategic installations. For the first time in history, all air traffic was stopped throughout the U.S.
The Navy dispatched ships to New York Harbor to assist in the rescue and to ward off any possible further attacks. Two aircraft carriers — the USS John F. Kennedy and the USS George Washington — were ordered to leave port in Norfolk, Va., so they would not become targets.
"The Pentagon is functioning. It will be in business tomorrow," said Defense Secretary Donald Rumsfeld in an evening briefing at the Pentagon.
Officials speculated about the timing of the attack.
In June, a U.S. judge had set this Wednesday as the sentencing date for a bin Laden associate for his role in the 1998 bombing of a U.S. embassy in Tanzania that killed 213 people. The sentencing had been set for the federal courthouse near the World Trade Center.
Abdel-Bari Atwan, editor of the al-Quds al-Arabi newspaper, said he received a warning from Islamic fundamentalists close to bin Laden, but did not take the threat seriously. "They said it would be a huge and unprecedented attack but they did not specify," Atwan said in a telephone interview in London.
In the evening, in a bipartisan display of unity, members of both the Senate and House of Representatives convened on the steps of the Capitol to offer their full support to the president and U.S. military forces in their efforts to track down and punish the terrorists.
House Speaker Dennis Hastert, R-Ill., said it was still not clear who was responsible, "but we have our suspicions."
"And when that is justified ... we will act," he said. "We will stand with this president ... and we will stand as Americans together throughout this time."
The lawmakers then sang "God Bless America."
Evacuations were ordered at the United Nations in New York and at the Sears Tower in Chicago. Los Angeles mobilized its anti-terrorism division, and security was intensified around the naval installations in Hampton Roads, Va. Walt Disney World in Orlando, Fla., was evacuated and closed, as were Mount Rushmore, Seattle's Space Needle and the Gateway Arch in St. Louis. Major League Baseball cancelled its entire Tuesday and Wednesday schedules.
"This is the second Pearl Harbor. I don't think that I overstate it," said Sen. Chuck Hagel, R-Neb.
In Lima, Peru, Secretary of State Colin Powell cut short his first official visit to South America to return home. "A terrible, terrible tragedy has befallen my nation, but it has befallen all those who believe in democracy," Powell told the Organization of American States.
Key indexes sank on world stock markets and some European airlines canceled flights to the United States and recalled planes already in the air. Trading on Wall Street was suspended.
The people aboard planes who managed to make cell phone calls each described similar circumstances: They indicated the hijackers were armed with knives, in some cases stabbing flight attendants. They then took control of the planes and aimed them at their targets.
The two flights that toppled the World Trade Center took off 15 minutes apart from Boston's Logan International Airport.
The first crash was a hijacked American Airlines plane that smashed into the World Trade Center at 8:45 a.m. It was identified as Flight 11, a Boeing 767 en route to Los Angeles. There were 81 passengers, nine flight attendants and two pilots aboard the flight.
A second plane, United Airlines Flight 175 to Los Angeles, crashed into the World Trade Center 18 minutes later. The Boeing 767 carried 56 passengers, two pilots and seven flight attendants.
A second American plane, Flight 77 from Dulles, Va., to Los Angeles, a Boeing 757, crashed into the Pentagon at 9:43. There were 58 passengers, four flight attendants and two pilots aboard. Fox News commentator Barbara Olson, a former congressional staffer and Republican activist, was on the plane. Officials said she made two phone calls to her husband, Solicitor General Ted Olson, from her cell phone before the crash. Olson told her husband that the plane had been hijacked by terrorists wielding "knife-like" instruments.
In Pennsylvania, United Airlines Flight 93, a Boeing 757 en route from Newark, N.J., to San Francisco, crashed at 9:50 a.m. about 80 miles southeast of Pittsburgh. Rep. James Moran, D-Va., said that plane was apparently intended for Camp David, the presidential retreat in the mountains of Maryland. The crash site was 85 miles northwest of Camp David.
An emergency dispatcher in Westmoreland County, Pa., received a cell phone call from a man who said he was a passenger locked in the bathroom of United Flight 93, said dispatch supervisor Glenn Cramer.
"We are being hijacked, we are being hijacked!" Cramer quoted the man as saying. The man told dispatchers the plane "was going down. He heard some sort of explosion and saw white smoke coming from the plane and we lost contact with him," Cramer said.
In New York, the planes blasted fiery, gaping holes in the upper floors of the Twin Towers. A witness said he saw bodies falling and people jumping out. About an hour later, the southern tower collapsed with a roar and a huge cloud of smoke; the other tower fell about a half-hour after that.
Donald Burns, 34, who had been at a meeting on the 82nd floor of One World Trade Center, saw four severely burned people on the stairwell. "I tried to help them but they didn't want anyone to touch them. The fire had melted their skin. Their clothes were tattered," he said.
People ran down the stairs in panic and fled the building. Thousands of pieces of what appeared to be office paper drifted over Brooklyn, about three miles away.
Several subway lines were immediately shut down. New York's mayoral primary election was postponed. All bridges and tunnels into Manhattan were closed down.
By early afternoon, the downtown area was cordoned off and a rescue effort was under way. Hundreds of volunteers and medical workers converged on triage centers, offering help and blood. Paramedics waiting to be sent into the rubble were told that "once the smoke clears, it's going to be massive bodies," said Brian Stark, a former Navy paramedic who volunteered to help.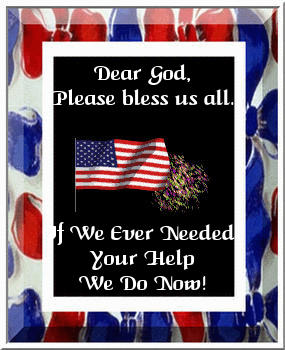 A MESSAGE

I've cried to God as I've beheld
The world wrapped up in fear
Of lack and death and war that looms
To snatch lives held so dear

I said, My God! - Have you not heard
The newsmen on TV?
Do you not know the shape we're in?
Do you not care for me?

"I'm scared, Dear Jesus! - Help us! - Please!
There's news of fear and war
And I'm afraid, Lord - I admit! -
Of what might be in store.

Peace, be still, My child, He said
And hear now what I say
For I have seen and heard the cries
Of those who, to Me, pray.

Keep your eyes upon ME now
Not what you hear or see
And, as you do, you'll keep My peace -
IF your mind stays on ME!

It matters not what one man says
Or even many more
For I am God, and I decide
Each day what lies in store.

I've told you there would be such times
When, of these things, You'd hear
I told you so you'd be PREPARED
And FULL OF PEACE, not fear.

For all these things MUST be fulfilled
Yet MY WORD fails not
For I AM still your Hiding Place
As all the fires rage hot.

You're hid beneath MY shadow now
And you can rest in Me
Yes you can trust My Words of LOVE
To last eternally.

For I'm your Father, Counselor, Friend
Your Alpha and your End
And if this was the world's last day
Be sure, for you, I'd send.

I've promised I'd save you a place
If you would stay in Me
Stay pure and faithful, eyes on Me
And, victory, you'll see.

I can't tell you if it's 'the end' -
NO human man can know
But I CAN tell you, it IS close,
So be prepared to go.

Each day I give you, reach in love
To save another soul
For snatching them from Me for Hell
Is truly Satan's goal.

Occupy until I come
Live each day FULL in ME
Just keep your eyes upon MY face
And know that I DO see.

I see the world, I see YOUR LIFE
And I DO care for YOU
And know, no matter WHAT occurs
My love for you stands TRUE.

I'm Alpha and Omega - God -
I'm King and Lord of ALL
I'll be right near to care for you
As, on My name, you call.

For I can change the hearts of Kings
And I, their hearts, do try
And I'M the one who formed this world
And says when it shall die.

So, USE this time to SEEK THE LOST
And tell them of My Love
That they, too, may be saved and live
With Me, again, above.

Don't listen to fear's voice - hear MINE!
Then STAND on what you've heard
Don't fear yours or the world's fate -
It's destined by MY WORD.

Keep your eyes on ME, My Child,
And let Me wipe each tear
For I am God and IN CONTROL -
So live in peace, not fear.
~Unknown~